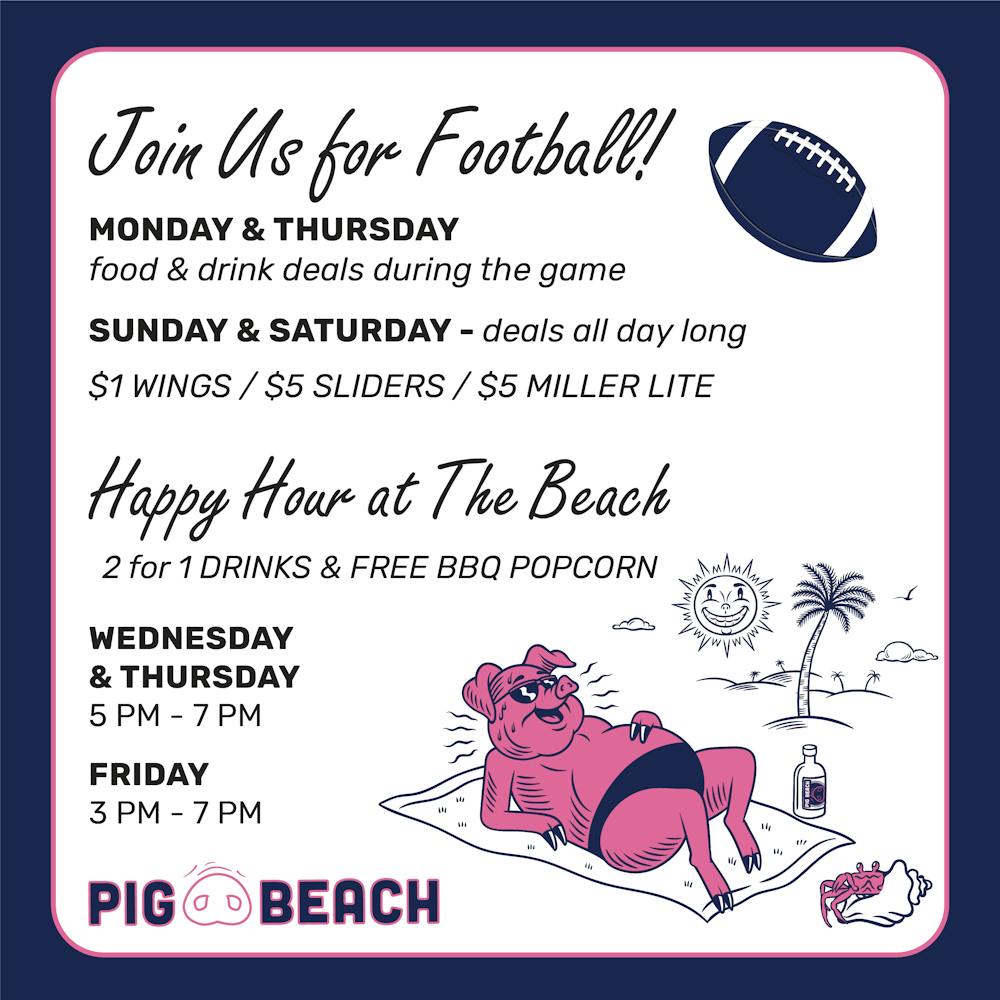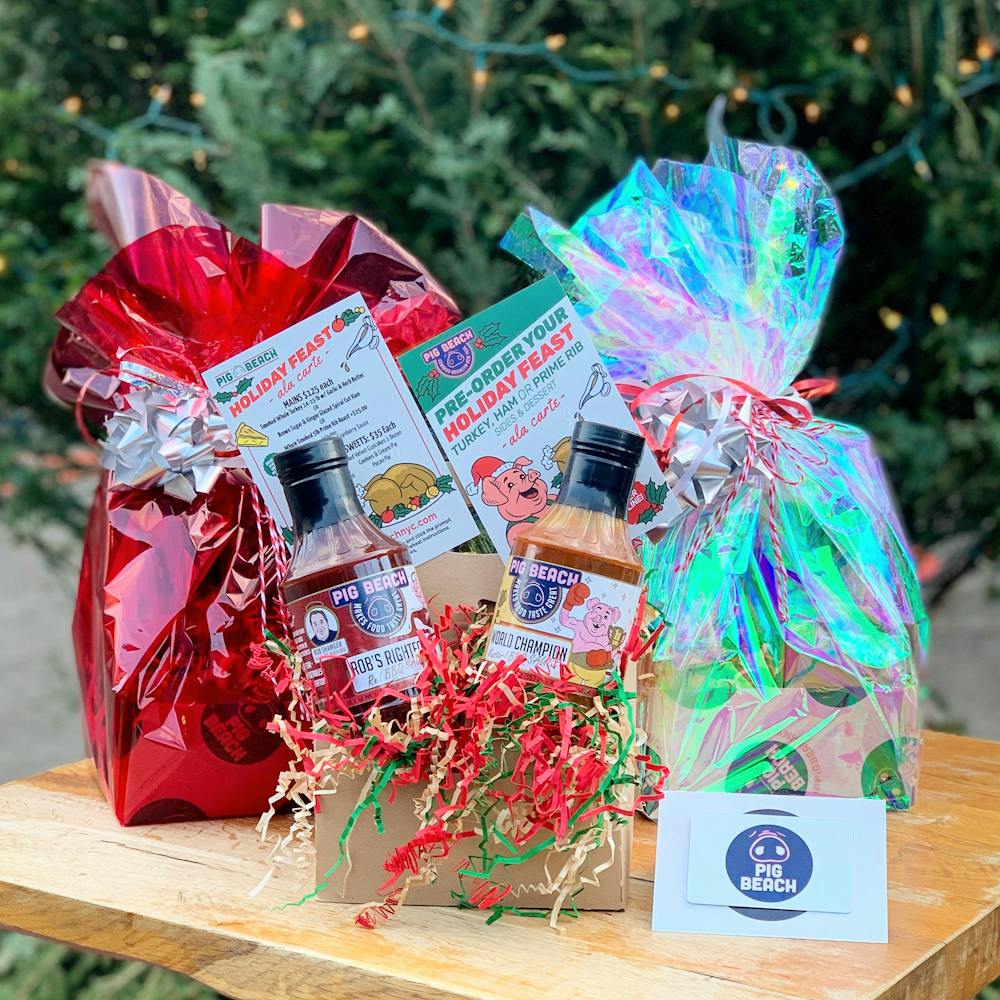 HO HO HO
Time to cough up some dough to show your friends and loved ones just how much you care! In addition to our new t-shirts, hats and gift cards - for a limited time this holiday season we will be offering a special Sauce Bundle Promotion. You will get all 4 of our sauces for $25! They are currently available in store so come on down for some BBQ & holiday shopping!
What's included:
( 1 ) Bottle Ocean Front Hot BBQ Sauce: This tomato based BBQ Sauce is the perfect amount of heat for those wanting all the traditional Tangy BBQ Sauce flavor with a sweet heat. We love using it on our Tri Tip, Beef Ribs, and Beer Can Chicken, but its great on Pork, Burgers, Lamb and even seafood! Try making your next batch of Cocktail sauce using our Ocean Front BBQ, we promise it won't disappoint!
( 1 ) Bottle Rob's Righteous Red Sauce: Our signature Tomato Based Red BBQ Sauce was created by our Founder Rob Shawger using ingredients from his home kitchen. It is a unique balance of Savory and Sweet, with a slight medium heat on the back end. We love it on Pork, Steak, Lamb, Vegetables, Poultry & Seafood or just slather it on your favorite foods to add a depth of BBQ Delicious! Pro tip…Mix with honey to create the perfect Baby Back Rib Glaze that's savory, sticky sweet!
( 1 ) Bottle Tangy Vinegar Mild BBQ Sauce: This vinegar based sauce has all that love of a traditional Carolina Style BBQ Sauce, but with roasted Chili Pepper flavor and aroma. We source authentic Hatch Chilies from New Mexico to create this Tangy sauce that is perfect with Pulled Pork, Grilled Chicken, and steaks. This Vinegar BBQ sauce is also great used as a marinade for meats, and vegetables, perfect for moping and slathering items on a grill, and incredible to add to your favorite buffalo wing recipe to boost it up with a tangy vinegar kick!
( 1 ) Bottle World Champion Mustard BBQ Sauce: This Carolina Style sauce intended for Whole Hog, or Pulled Pork is also amazing with Poultry, Seafood, Veggies, Burgers and Lamb. It is a great way to jazz up salad dressings, marinades, and vinaigrettes and with a 1st place finish in the Memphis In May BBQ competition, this BBQ mustard sauce is truly worth its praise!
It's never too early to start thinking about your holiday plans!
To order your feast or inquire further, email events@pigbeachnyc.com and click HERE for a look at the menu! All orders must be in by Monday, December 23rd!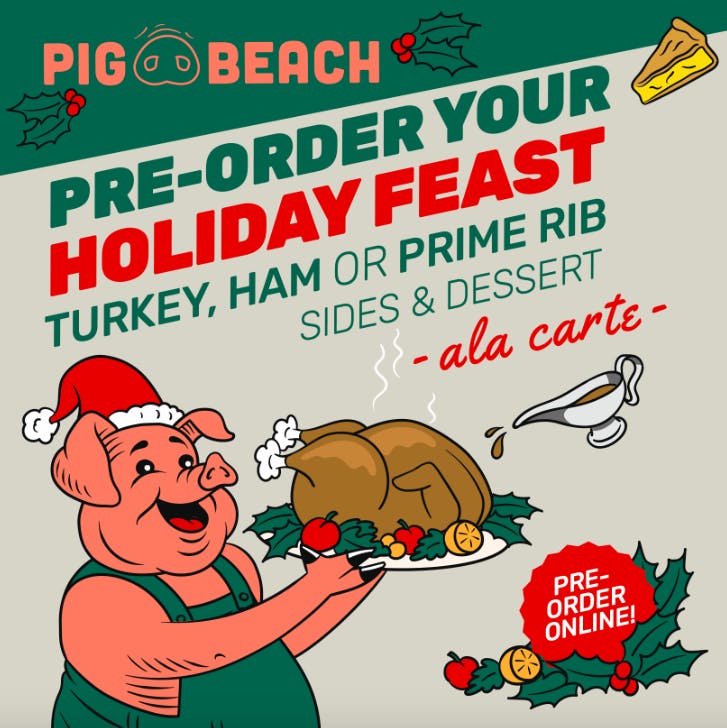 The holidays are upon us! Pig Beach is the perfect place to host your holiday party.
If you would like to book your event with us, please email events@pigbeachnyc.com
Please be advised of the following dates that Pig Beach will be closed:
Tuesday, December 24th: Christmas Eve
Wednesday, December 25th: Christmas Day
Tuesday, December 31st: New Year's Eve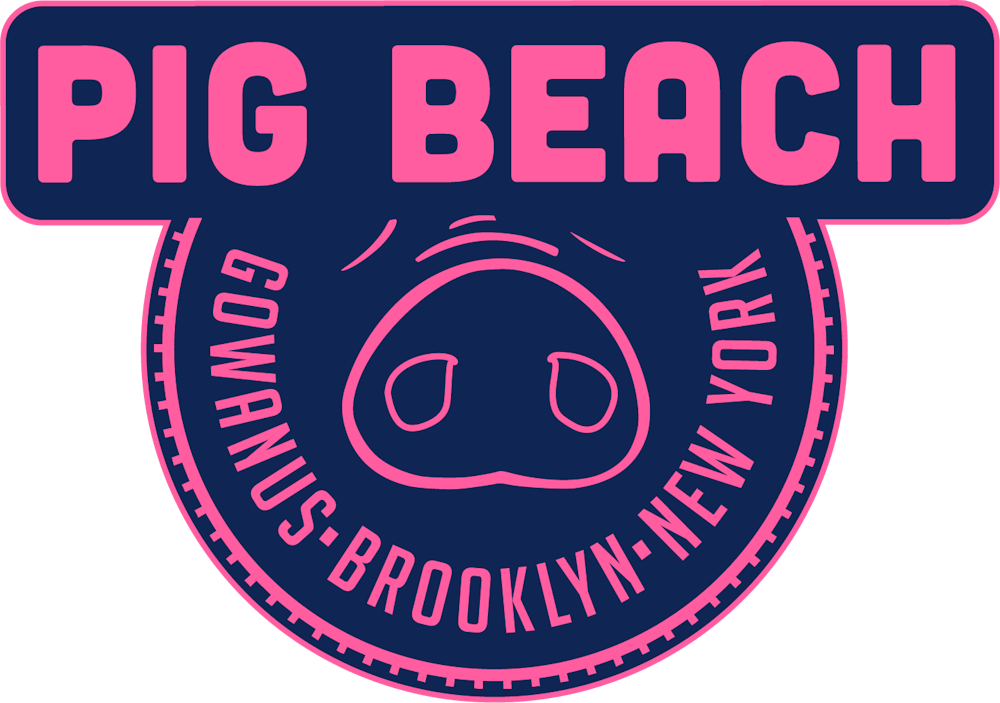 We apologize for any inconvenience!